Ed Cuban Shirt

A traditionally humble piece of workwear
12oz Unsanforized Selvedge Denim
Exclusive Collection

1940s Style Vintage Dress
Ed Cuban Shirt
A traditionally humble piece of workwear
Explore now
12oz Unsanforized Selvedge Denim
Exclusive Collection
1940s Style Vintage Dress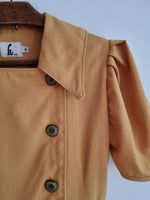 Epoch Dress
A second edition of the 1940s inspired vintage dress to The Kumi J Collection.
A structured dress made with dead stock Swiss vintage buttons.
The Epoch dress is carefully constructed to accentuate the quintessence of a vintage dress of that era.
Available in 2 colourways.
EXPLORE NOW
MILL Pants
The MILL Pants is designed with specific details inspired by heritage garments yet uniquely styled based on designer's personal aesthetics. 
It is made with 100% cotton Japanese Twill. Available for both genders.
Roll over His/Hers collection for details!